Why Choose Us?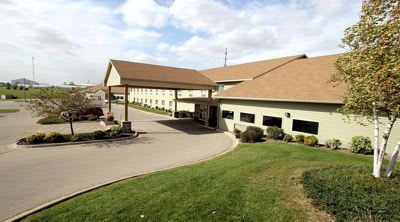 Darlington Inn is a SMOKE FREE property, is located off Highways 81 and 23, this motel is a 5-minute drive from downtown Darlington and the Darlington Golf Club.
We offer free access to the on-site jacuzzi and gym which are provided to all guests of the Darlington Inn.
Our free parking offers plenty of space for trucks, trailers and Semi's.
A complimentary hot and cold continental breakfast is served daily at the Darlington Inn.
Cable TV, microwave, refrigerator, coffee maker, and hair-dryer are standard in every room. Irons are available upon request.
Popular Hotel Features
Pool and Spa

Indoor Swimming pool (open year-round)
Hot tub/Jacuzzi

Pets - Pets are not allowed.
Internet - Free! WiFi is available in all areas and is free of charge.
Fitness center
Services

Fax/Photocopying
Business center
24-hour front desk
Meeting/Banquet facilities
Local Shopping
Piggly Wiggly Supermarket - The "Pig", is our friendly local grocery offering a deli, bakery, beer, wine, and alcohol.
Marilyn's Clothing - You will find fashionable women's clothing and accessories while shopping at this privately owned boutique located on Main Street in downtown Darlington.
Pins and Pieces Quilting Shop - At Heidi's shop you will find a nice selection of unique fabrics, patterns, and notions. She offers long-arm quilting services and if you find yourself stuck on a project, Heidi is happy to help.
Hartig Drugs - Hartig's is a full service pharmacy, offering cards and a gift shop.
Bargin Nook - The Nook is a gently used resale shop. The proceeds benefit the Hodan Community 501(c)(3) organization for those with disabilities.
Dollar General - A convenient shop for low price items.